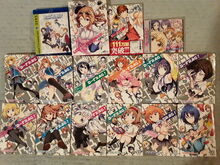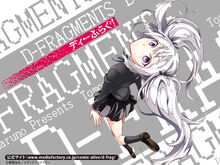 D-Frag is my favorite manga, and I want to help complete this wiki
My Collection
Edit
(pictured right)(left to right, up to down)
D-Frag anime on Blu-Ray/DVD. Plays in English, Japanese with English subtitiles available and voice over commentary for 2 episodes provided by the english dub cast.
D-Frag vol 9 special. Contains D-Frag vol. 9 (japanese) with special cover, OVA "Water!" on DVD, a special postcard and a box that holds it all.
D-Frag vol 8.5. Special art book released exclusively in Japan. Contains character stats and info, plus references used for the anime and other artwork.
IOSYS JK Girls "Stalemate" D-Frag CD. The anime's opening and an additional track performed by IOSYS JK Girls. Factory Sealed.
D-Frag vol 1-12. Western Releases. I've already preordered vol 13.
My favorite pages
Edit
Chitose, as she is my favorite character
Community content is available under
CC-BY-SA
unless otherwise noted.